Hey there, beauty enthusiasts and aspiring beauty professionals! Are you ready to dive headfirst into the marvelous world of beauty and discover the power of the personal touch? Get ready to unleash your inner beauty guru because we're about to sprinkle some magic into your life! 
In a world where impersonal interactions seem to be the norm, the personal touch has become a rare gem. But fear not because the beauty industry is here to save the day! With its vibrant colors, enchanting aromas, and transformative powers, beauty is all about embracing our unique selves and celebrating the personal touch that makes us shine. 
So, what exactly is the personal touch of beauty? It's that special something that allows you to create experiences that go beyond perfection. It's about connecting with your clients on a deeper level. Understand their individual needs, preferences, and dreams. Are they bold and daring, ready to rock a wild hairstyle, or experiment with vibrant nail art? Or do they prefer a natural and elegant look that enhances their unique features? By understanding their individuality, you can create personalized beauty journeys that boost their confidence and make them feel like the superstars they are! 
But it doesn't stop there! The personal touch extends beyond the physical aspects of beauty. It's about creating an environment where people feel comfortable, heard, and understood. It's the warm smile you greet your clients with, the genuine interest you show in their lives, and the uplifting conversations you have during their time in your chair. These small gestures create a personal connection that transforms a beauty service into an unforgettable experience. 
In the world of beauty, the personal touch also means staying on top of trends and constantly learning and growing. Keep your finger on the pulse of the industry, experiment with new techniques, and embrace innovation. Whether it's mastering the latest hairstyles, staying up to date with skincare advancements, or becoming a nail art trendsetter, infuse your knowledge and skills into your craft. Let your personal touch reflect the ever-evolving beauty landscape. Remember, there's always room to learn, grow, and surprise yourself! 
Now, let's talk about the personal touch in your own beauty journey. It's about celebrating your unique strengths, quirks, and passions. What sets you apart from the rest? Maybe it's your infectious energy, your ability to make people laugh, or your knack for creating chic hairstyles. Embrace those qualities, amplify them, and infuse them into your work. Your personal touch makes you shine, so let it radiate in everything you do! 
So, my fellow beauty enthusiasts, let's raise our scissors high and celebrate the personal touch of beauty! Embrace the magic of connection, understanding, and self-expression. Let your inner beauty guru shine bright and create experiences that leave your clients feeling empowered, beautiful, and inspired. Together, we can revolutionize how beauty is perceived and bring back the personal touch that makes us all unique! 
At TSPA, we inspire one another and celebrate the power of individuality in the beauty world! Join us and unleash your inner beauty guru. Contact admissions to schedule your tour today!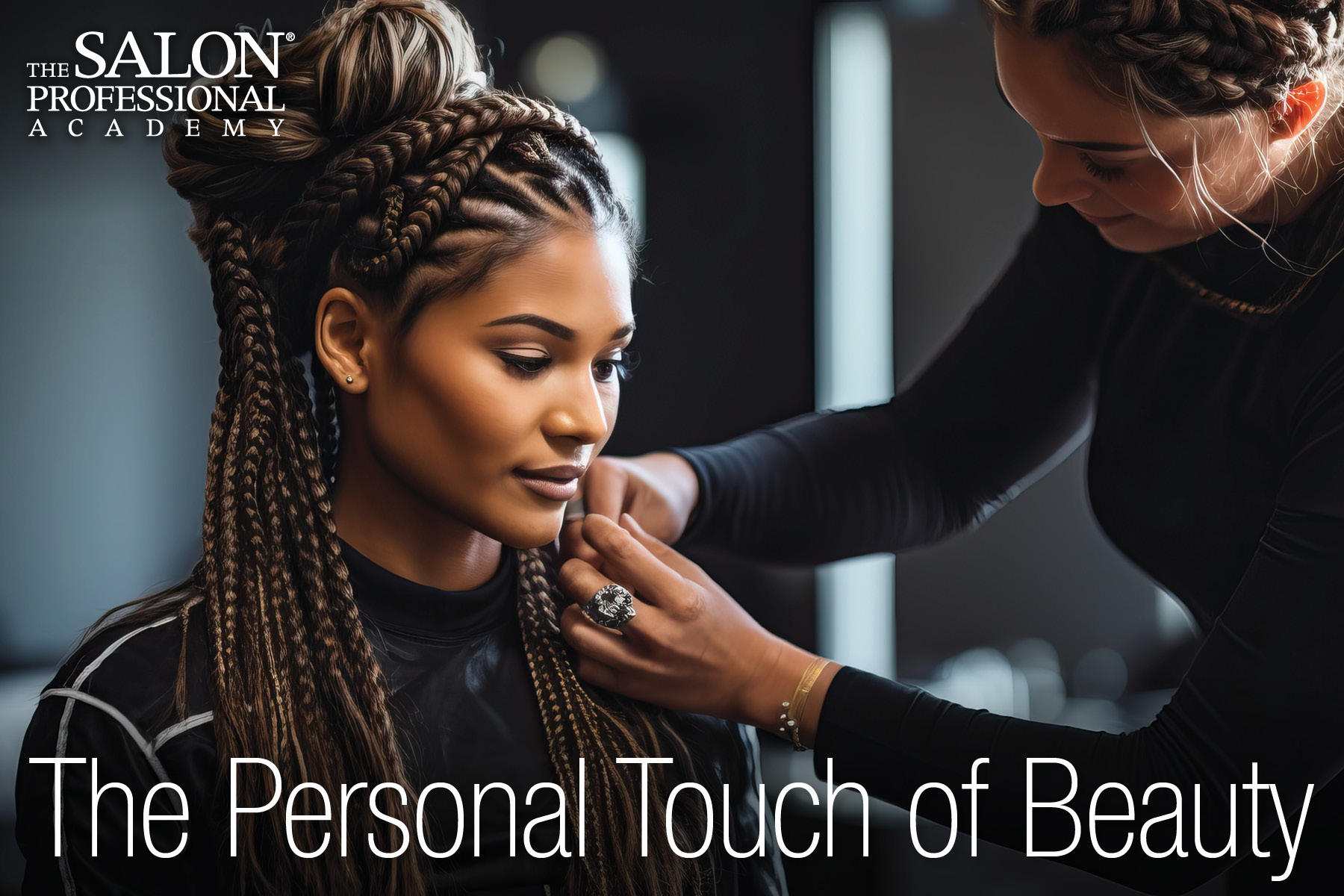 Are you an aspiring beauty professional in Evansville, Indiana? Do you dream of a career in the world of cosmetology, where you can unleash your creativity and transform people's lives through the power of beauty? If so, let me tell you why continuing education in cosmetology is essential and how The Salon Professional Academy (TSPA) can support your journey toward lifelong learning.
In the ever-evolving field of cosmetology, staying ahead of the game is crucial. Trends, techniques, and technologies are constantly changing, and as a beauty professional, it's important to keep up with the latest advancements. 
Continuing education not only enhances your skills and knowledge but also opens up doors to exciting opportunities in the industry. Whether you are a recent cosmetology school graduate or a seasoned professional, ongoing education ensures you stay relevant and competitive in this dynamic field. 
So, why choose TSPA? Let me give you a few compelling reasons:
Expert Instructors with Real-World Experience
At TSPA, learning from experienced professionals is the key to success. Our instructors are industry experts who have walked the talk and have a wealth of experience to share. They are passionate about teaching and equipping students with the latest techniques, trends, and industry insights. With their guidance, you'll be empowered to reach new heights in your career. 
Cutting-Edge Curriculum
Our cosmetology program is designed to provide you with a comprehensive education that goes beyond the basics. We cover everything from hair-cutting and coloring techniques to skincare, makeup application, and nail care. Our curriculum is regularly updated to reflect industry trends and standards, ensuring you receive the most relevant and up-to-date education. 
Hands-On Learning and Practical Experience
At TSPA, we believe in learning by doing. Our state-of-the-art facilities provide a hands-on learning environment where you can practice your skills under the guidance of our experienced instructors. From working with real clients to participating in industry events and competitions, you'll gain invaluable practical experience that will set you apart in the job market.  
Networking Opportunities
Building a strong professional network is crucial in the cosmetology industry. TSPA provides numerous networking opportunities, connecting you with industry professionals, salon owners, and potential employers. These connections can open doors to internships, job placements, and mentorship opportunities, giving you a head start in your career. 
Ongoing Support and Continued Education
At The Salon Professional Academy, our commitment to your success doesn't end with graduation. We offer ongoing support and continued education opportunities to our alumni. Whether it's advanced workshops, industry conferences, or specialized certifications, we ensure you have access to lifelong learning resources to continually sharpen your skills and stay at the forefront of the industry. 
Investing in continuing education is an investment in your future as a cosmetology professional. By choosing TSPA in Evansville, you'll join a vibrant community of like-minded individuals passionate about beauty and committed to lifelong learning. 
So, what are you waiting for? Take the first step towards a rewarding career in cosmetology by enrolling at The Salon Professional Academy. Your journey towards lifelong learning starts here!